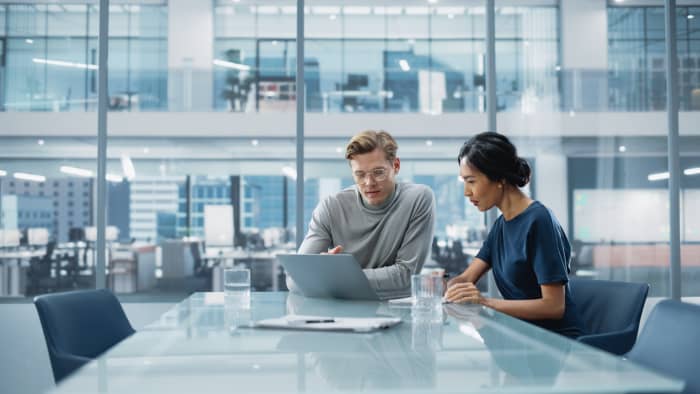 Question: I've been a member of the "overemployed" group for 18 months. Having two full-time jobs doubled my annual income to $300,000 and allowed me to accumulate enough savings to purchase a few online businesses. I need a trusted financial adviser. Where should I start my search and how do I find someone familiar with a situation like mine?
(Looking for a new financial adviser, too? This tool can match you to an adviser who may meet your needs.)
Answer: Congratulations on this tremendous achievement. It sounds like you're looking to set yourself up well for the long term, and for that you want a financial planner who you can trust, and who has experience in your situation.?
Step one to finding someone you can trust is to look for someone who is a fiduciary, meaning they're required to act in the best interest of their clients when providing financial advice and planning services.
Have an issue with your financial adviser or looking for a new one? Email picks@marketwatch.com.
For that, you might want to consider a fee-only certified financial planner: These folks must complete extensive coursework, abide by ethical standards and have real world experience.?In addition to certified financial planners (CFPs), chartered financial analysts (CFAs) also engage in rigorous exams and focus on broad financial issues like investment management, financial reporting, and corporate finance in addition to being well-versed in complex equity investing strategies like the ones you've mentioned.
You might start your search at places like XY Planning Network or Garrett Planning Network.?And this tool can match you to an advisor who meets your needs.
After determining the areas you're interested in receiving help, experts recommend asking potential advisers these 15 questions, which cover everything from their qualifications (which you will then verify) to how they are paid, to what kinds of clients they normally work with (ask for references).?
If you're starting a new business, hiring an adviser who has experience helping small business owners can help ensure your initial capital investment works to its best ability. Someone in this space can help guide your business model, assist in creating timelines, offer tax-requirement assistance and help outline strategies to make your new endeavor profitable. The Financial Planning Association and the Society of Financial Service Professionals can help you vet potential candidates to make sure they meet certain requirements and have the proper designations necessary to fulfill their fiduciary duty.
It's important to get a sense of how your working relationship will take shape with an adviser over the long term. "Since you mention your specific situation, it's important you hit that question very directly and even if the adviser doesn't indicate specific familiarity with your situation, they may still be able to address your circumstances with valid consideration," says Maurice.
The type of adviser you hire varies depending on what kind of advice you are looking for. ?If it's investment management you want, the assets-under-management, or AUM, model is a common way to go. Often these advisers charge about 1% of one's assets under management. Not only will they manage your investments for you, but they might also monitor and update one's financial plan, provide financial education and more. ?
Other fee models include hourly advisers, who give you advice by the hour and whose fees range from roughly $150 to $400 per hour depending on location, experience and the complexity of one's finances. You might also consider flat-fee advisers, who might charge between $3,000 and $10,000 annually for similar services offered by an adviser operating under the AUM model.
(Looking for a new financial adviser? This tool can match you to an adviser who meets your needs.)
Have an issue with your financial adviser or looking for a new one? Email picks@marketwatch.com.
The advice, recommendations or rankings expressed in this article are those of MarketWatch Picks, and have not been reviewed or endorsed by our commercial partners.